Heart Valve Expert In Jaipur: Heart valve disease is a pretty frequent condition with valves that keep your blood flowing through your heart in one way. Medication can help with blood flow issues caused by a faulty heart valve, but they are not always sufficient. Your healthcare professional will be able to inform you whether your valve needs to be fixed or replaced.
Heart valve disease is any of various disorders that cause one or more of your heart's valves to malfunction. Heart valve dysfunction, if left untreated, can cause your heart to work harder. This can harm your quality of life and could be fatal. Your healthcare professional can repair or replace your heart valves with surgery or minimally invasive treatment.
Symptoms Of Heart Valve Disease by Expert
People with heart valve disease are frequently asymptomatic. Yet, when the heart valve condition worsens, your heart pumps faster to compensate for the decreased blood supply. Heart valve disease can progress to the point where the following symptoms appear:
Shortness of breath worsens with vigorous exercise or lying down.
Palpitations (skipped beats or a flip-flop feeling in the chest)
Edema (swelling of the ankles, feet, or abdomen).
Dizziness or weakness.
Quick weight gain.
Fatigue.
Chest pain, especially while exerting yourself.
You may experience fevers, chills, or body aches if the valve disease is caused by infection.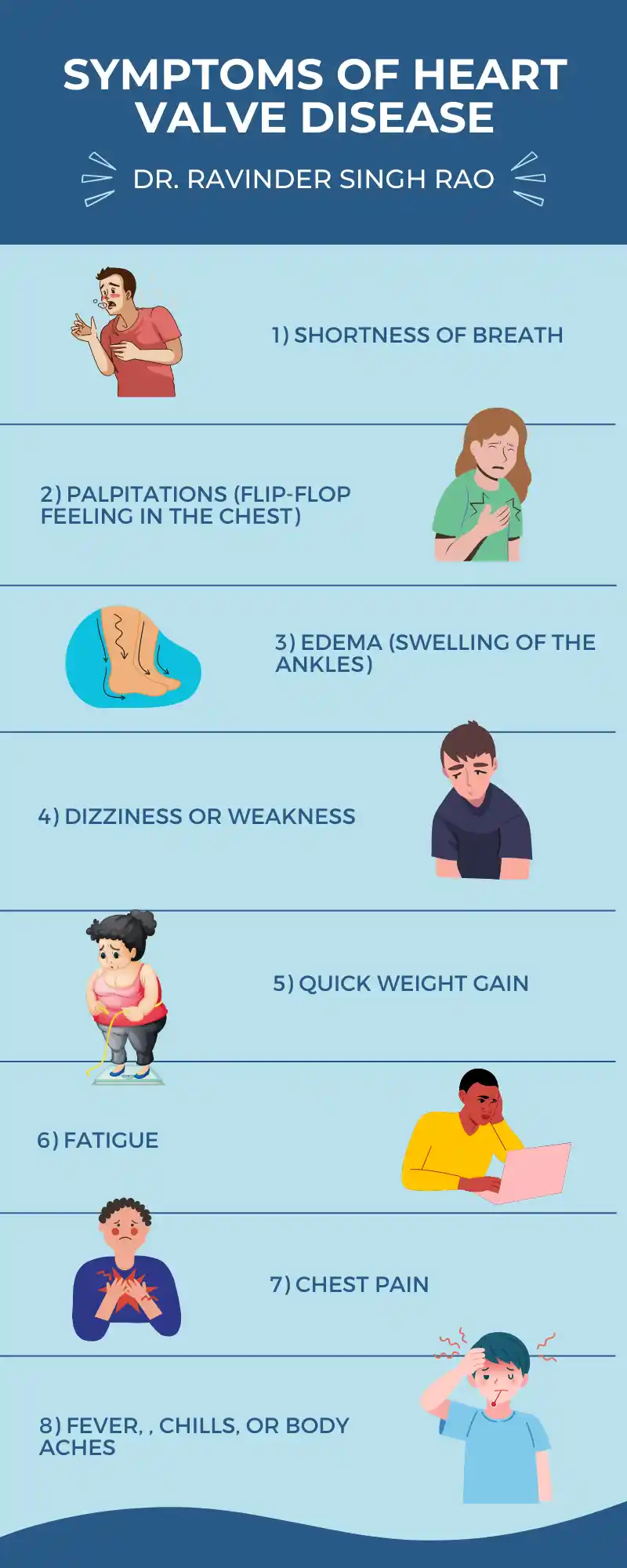 What Causes Heart Valve Disease?
The common cause of heart valve disease include:
Rheumatic fever is caused by untreated strep throat.
A cardiac attack that causes heart damage.
Blood pressure that is too high(advanced).
A congenital issue that has existed since birth, such as an improperly developed pulmonary or aortic valve.
Valve tissue degeneration or calcification, with progressive loss of function.
Aneurysm of the thoracic aorta
Failure of the heart.
Infection of the heart(infective endocarditis).
Heart Valve Disease Treatment
If a heart valve condition is not treated, it might be fatal, although damage to a heart valve cannot be reversed, it can be treated.
Heart valve disease treatments vary based on the underlying cause and may include:
Prevent further harm to your valve.
Medications are being taken.
Having invasive or surgical procedures if necessary.
Seeing your heart doctor frequently.
Video: Heart Valve Expert Talk about TAVI/TAVR
Dr. Ravinder Singh Rao is the best heart valve expert in Jaipur, Rajasthan. Consult with him for the best treatment.